Make Money From Home Using Elance

Elance is a freelance workplace that allows you to bid on jobs.
There are over 500,000 businesses posting 100,000+ jobs a month in over 170 countries in the world. Elance contractor opportunities are tailored for those that are programmers, engineers, mobile developers, designers, writers, and marketers. Becoming a freelancer affords you the opportunity to make more money from home, allows you to have flexibility so that you have more time to do the things you enjoy.
Getting Started with Elance:
1. Sign up (Free registration)
2. Select your membership plan. If you are just starting, I recommend going with the "Basic" plan. However, if you choose the "Individual" plan, you will receive added benefits such as appearing higher in searches, and getting an insight to what other competitors are bidding.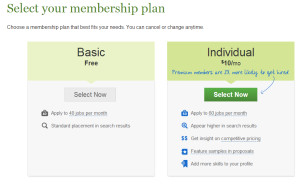 3. Create your profile (This is like your résumé, so take your time and include everything that can get you ahead of the competition)
4. Set your payment option (U.S. residents-1099 tax form will need to be completed)
Applying for Contract Jobs:
1. Elance will notify you of any jobs that match your profile.
2. If you are interested in any job, submit a proposal explaining how you will tackle the project. Make sure that your profile is completed, so that employers have an accurate picture of your capabilities and skills.
3. If you are selected, a shared workroom will be created so that you can communicate with the client. Collaborating, turning in your work, and receiving payment is done through the workroom.
How much does Elance cost?
Elance takes 8.75% out for their service fee. You can see as you are bidding how much will be deducted. If you are aiming to earn $200 for your work, you will see a bid of $217.50 ($200+8.75% fee of $17.50). To withdraw your money from your jobs, there are several options.
United States: ACH bank transfer, Bank Check (mailed checks generally arrive in 2 weeks), and Paypal
Outside of the US: Wire transfer (1 free transfer a month, Local currency transfer fee $5, US Dollar transfer fee $25), Payoneer (Elance Prepaid Mastercard), Paypal, Skrill, and Bank Check (Canada Only)
To help you learn more about using and making money with Elance, they have a dedicated training videos and articles called Elance University. Learn new skills, or brush up on some older skills that you'd like to use in your freelance venture.  Happy job searching!