Where to Find Hot Shopping Deals
As a college student, I know first-hand the struggle of having to put on the thrifty hat when it comes to buying the necessities to get through life. Seriously! The other day at Walmart I spent $50 of the $50 my father sent to me that same day—the SAME DAY. On the other not-so-responsible hand, I know the battle of buying things I want, knowing that I need to be saving for college kid bills. At times, I feel as though I need some sort of a break from all the high prices. Well, not really a break, but some sort of middle man to help me purchase the things I need without starving my wallet. Dealspotr.com acts as that kind of "middle man," minus the quality of, you know, being human.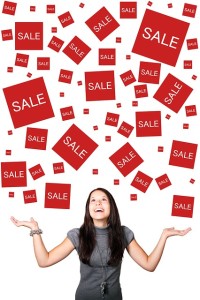 Dealspotr provides redeemable coupons and promo codes to your favorite stores. The number and kind of stores are limitless. Every kind of store category ranging from fast food to home appliances is on Dealspotr.  The beauty of this website is that all of the hot deals are posted by everyday customers and the stores themselves. Think of Dealspotr as your online collection of coupons. Day after day numerous amounts of coupons are posted to nearly every store that is around in today's age. Do you like to use Twitter? Stupid question, I know. Well, think of using Dealspotr as tweeting out coupons for everyone to see. All it takes is a little effort of logging on outside of class and easily posting and grabbing the hot deals available to you.
How to get started finding hot deals?
Just as grabbing all the hot deals on Dealspotr is easy, so is becoming an active member of the website. Simply go to the website, www.dealspotr.com, click on the top right hand button that says "join/login," provide your email address, a username and a password. Voila! You are a member of Dealspotr and are ready to give and receive hot deals to your favorite stores.
Once you are logged in, immediately you will have a dashboard with different posts from Dealspotr users showcasing hot deals from different stores. See a hot deal from a store that interests you? It is very easy to score on one of the many hot deals on Dealspotr.
Click the "redeem offer" button to the right of the deal. Depending on what type of promotion a store is having, the button to the right of the deal may say "view & print," or if a promo code is required for redemption, it will be a code you click on. After you redeem the offer, you will be directed to a page with the offer listed and a link to the website the promotion is on. If you clicked on a promo code prior to being on this page, do not forget to press "copy," so you can easily put in the promo code on the store's website.
Remember, as a member of Dealspotr, not only are you receiving the hot deals others post, but you are also helping them in return by posting the hot deals you find. To help other users find deals, all you have to do is do what you like to do best—shop. Go to different store websites and look for ongoing hot deals and promotions. Once you find one, go back to Dealspotr and at the top of the page click "add deal." Once you click this, choose what type of hot deal you have found (product deal or store-wide/sale). Next, give the basic facts of the hot deal, such as the store the coupon is from, what the deal is and a url for the website or promo code, depending on how the deal is redeemed. Now, all you have to do is post the deal and give others an opportunity to save money.
One of the cool things about Dealspotr is you get points for doing different things, such as commenting on another user's post and even posting your own deal. Ultimately, the more positivity you bring to Dealspotr and the more you help others find deals, the more points you will earn. Once you accumulate so many points, you get rewarded for your work with gift cards. It is as if Dealspotr is saying, "Thanks for all your hard work. Now here's extra points for your effort." If only this could be applied to boosting GPAs!
A fun way to earn points daily on Dealspotr is by spotting other member's deals. Spotting deals is pretty much a game on Dealspotr, something to add competition to your coupon posting/gathering. If you see a deal posted by another user and think that it has the potential to turn into a "hot deal," click the up arrow to the left of the replies button. If the deal you spotted ends up turning into a hot deal, then you get extra points added to your account, which brings you another step closer to earning a gift card. The more your spots end up going hot, Dealspotr increases the number of spots you get each day. This gives you more chances to earn more points. All you are pretty much doing is guessing whether someone else's deal will make it big. Why not guess and take a chance? You get five spots daily, so you have absolutely nothing to lose and points to gain!
Dealspotr is available worldwide and has a minimum age requirement of 18 years old. As college students, we have three advantages to using Dealspotr: We love the internet, we love to shop, and we need extra money! Dealspotr is perfect for providing the economic savings we need, as well as allowing us to engage with others and help them save money too. Start finding hot deals on Dealspotr today!
Watch how to get started and post hot shopping deals below

*This is sponsored post