Think You're Cut Out For Doing Website Testing? Try these 7 companies!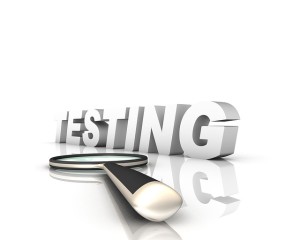 For most people (including myself), the word "testing" sends a chill that runs up the spine and ends with a heartbeat that exceeds 100 mph. But, to the surprise of many, not ALL testing is bad. In fact, certain kinds of testing can allow you to make quick, easy cash. Did I mention EASY CASH? Yes, I believe I did. Website testing not only allows you as an everyday consumer to make a quick buck, but it also allows you to practice expressing your thoughts in a thorough, concise way. There are many websites to participate in website usability testing. Check out the websites below and see which one is best for you to make some extra money!
TryMyUI provides a very structured type of website testing. What the website tester does is perform various tasks on the assigned website that will be tested. The tester's computer monitor and voice are recorded as the requested tasks are performed on the website. TryMyUI looks for testers that are able to speak their thoughts about what they are doing on websites as they are thinking them. In other words, if you can talk to yourself, then you are the right type of person for the job. Being the type of person who talks to myself constantly, this is the perfect job for me. After the recording, a written usability summary is written by testers to give account of their experience of the website.
The great thing about TryMyUI is that no purchase of a microphone or webcam is required for website testing. The website provides a Java Applet that allows the tester to start and stop the recordings. I know that had to make some of you thrifty people smile! In addition to being a money saver, TryMyUI is also a time saver as well. Usability testing generally takes about 15-20 minutes to perform, so you're in and out. Also, there is no minimum age for TryMyUI. This is a great alternative to hot and sweaty lemonade stands!
TryMyUI pays $10 per usability test. To receive this money, you must either have a PayPal account or MTurk (side note – if you perform via MTurk, your payment is done whenever you accept). Testers are paid twice a week. Therefore, if you take a test at the end of the week, you should receive payment within three days.
To get started on TryMyUI, visit the website and sign up. Next, take a qualification test to show your understanding of what is expected in website testing. The qualification test consists of a sample usability test and written usability summary. After all of this is done, you will be notified via email about possible testing opportunities. Testing opportunities depend on the target demographic audience of the website to be tested (you provide demographic information during the sign up process). If your demographic information matches up with that of the website to be tested, you're in!
For the most part, Userfeel is a mirror of TryMyUI. However, there is a difference. Userfeel does not possess a Java Applet for you to record your computer screen or record your voice. That's right, you must purchase a microphone. Before you decide to totally skip over Userfeel, remember that it would be superficial to not consider a great website over a microphone. Do you feel petty now? Good.
Another difference is that Userfeel gives more information on their differentiation of good website testing versus bad website testing. Here is Userfeel's separation of a good and bad tester.
Good tester
Speaks thoughts
Tells what confuses him/her
Explains what/why he/she does on the site
Makes proposals
Provides useful comments
Follows directions
Speaks loudly and clearly
Bad tester
Just reads what is on the website
Says everything on the website is "OK"
Shows off their computer skills
Constantly flatters the website
Does not follow directions
Is that clear enough? Userfeel is very blunt about what they want in website testing. As long as you speak your mind and follow orders, you are good in their book.
The pay for Userfeel is also $10 per usability test. PayPal is the required method of payment for Userfeel. In addition, the minimum age for Userfeel is 18.
Becoming a tester is also mirrored in Userfeel. First is registration; then, a sample test is taken by the potential website tester. How well a person does on the sample test affects whether or not a future test will be taken. Testing also generally takes 15 minutes on Userfeel as well.
User Testing follows the same model as the previous usability testing websites. Like Userfeel, a microphone is required in order for website testing to take place. Don't worry, though; User Testing provides a screen recorder to record a video of what is happening on your computer screen. In effect, money is being saved because no webcam is required for this website. Yes penny pinchers, your money will be saved.
User Testing also operates in a way that allows you to participate in usability testing if your demographic information matches up with that of the websites to be tested. User Testing is very upfront about the reality that one may not receive a lot of work. There are no hard feelings, really. It is just that the target audience of websites are very important to website owners.
The minimum age for User Testing is 18. Also, User Testing is accepted in countries that accepts payments through PayPal. Like the rest of usability testing websites, the general amount of pay is $10.
Userlytics is my favorite website for usability testing. What you need for Userlytics is a webcam, microphone and, of course, a computer. To repeat what Userlytics is asking of in website testers is redundant. However, the difference is that Userlytics accepts testers from all countries. Also, from examining the website, there is no indication that demographics play a role in website testing. All Userlytics states is that good website testing is wanted. As stated before, if you can talk to yourself and  write your opinion clearly, then there should be no problem for you concerning this type of testing.
The post-website testing questions asked by Userlytics are those of opinion that pertain to site navigation, overall concept, ease of use, design, processes (logging on/off), whether or not one would recommend the website to someone, and images that stick out to the tester.
The pay for Userlytics is also $10 per test. In addition, payment is also made through PayPal. Apparently PayPal is the way to go! No minimum age is specified with Userlytics, so your kids might be able to cash in as well.
Whatusersdo is the exact set up of the previous usability testing websites. One thing to note on whatusersdo is that the length of the tests are 20 minutes, and even from there they tend to vary. Also, testing is open to all countries. The only requirement is that the tester needs to speak English fluently. Considering the amount of countries that teach English as a second language, that requirement should not be an issue.
Whatusersdo also requires testers to have a microphone ready to use. But, since you're looking at blogs, aren't you already tech savvy enough to have a microphone? Exactly.
The amount of payment with Whatusersdo depends on if you are a member of the main whatusers do panel. Members on this panel have certain types of tests to take, which pay differently depending on the test. If you join whatusersdo through a customer branded panel, the customer may pay you first hand. Payment in whatusers do is made through PayPal.
On whatusersdo, the amount of tests you get depends on the clients and what they need.
P.S. – there is no specified age on whatusersdo. Get the whole family involved!
YouEye has the same set up as the other websites. Except for one thing, a PAY RAISE! YouEye pays $12 per completed study. Two dollars may not seem like a lot, but when it comes to the end result, it's a great extension. Payment with YouEye is made through PayPal.
Also, with YouEye, you must use their software. Their policy is if you will not use the "you eye recorder" then leave the website. Straight up!
The minimum age for YouEye is 18.High school graduates have no excuse for not having gas money.
Analysia follows the model of all the other websites. In addition, website testing is available to various ages. Each test lasts about 15 minutes and the pay is $10 per test.
Analysia is available in all countries. The only requirement with this is a good internet connection.
Are you able to talk to yourself? Can you write your opinions about your experience on a website? If so, then website usability testing is the job for you! Granted, the pay may not be that of a physical therapist, but money is money. At least that's how I view things. This is one test everybody should take at least once!