Sell Photos Online With This Smartphone App

Sell Photos Online Using Foap
Today, almost everyone is carrying a smartphone and using it to take photos. If you love taking photos, here is an idea to make money. Foap is a new smartphone app that is allowing their users to get paid and make passive income with their photos on their phone.
How can I make money?
To get started making easy money, download the app, and sign up with your Facebook account or email address (Note: must at least be 18). After you have signed up, you will see a menu of options. Begin by setting up your PayPal account, so that you can receive your money when you sell a photo. Payments are made at the end of the month, and every photo that you sell, you earn $5. If you So as you see, you will also be making passive income since there are no limits to the amount of times a photo can be purchased.
Before you start uploading your pictures, rate other people's photos. You have to rate at least five photos (done for every photo you upload) before your photos will be allowed to be reviewed for submission. All photos have to receive a rating score of at least 2.5 to be published. You may not enter any sexually explicit, violent, or inappropriate content. Although the focus is pictures from your phone, you can use photos that are not taken from your smartphone as long as it is uploaded from your phone. If you are using a photo that involve people, you must receive permission from them to sell the photo commercially. If you do not receive permission from them, you have to sell it as an "editorial" picture.
What kind of photos should I sell online?
The most popular categories on Foap are Baby, Beach, Breakfast, Business, Dogs, Easter, Food and Baking, Girl, Landscape, Love, Sky, and Smile (i.e. selfies). Your portfolio could include photos of people, work situations, travel, cities, close-ups, things (signs, books, bags, etc.), nature, and animals.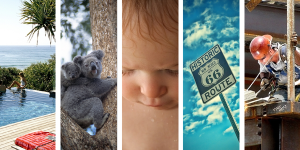 Make More Money Getting Verified and Joining Missions
Businesses use Foap for their digital and marketing campaigns through crowdsourcing. To join a mission, click on one that you are interested in and click "Join". If your photo is chosen as the winner, then you will receive the reward amount. Get verified and build trust with buyers. Verified users sell more than non-verified users. You will need some form of government identification to complete this process.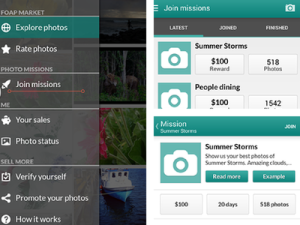 If you feel like this is an opportunity for you, then sell your photos online today!
iPhone Download
Android Download