Discover 9 Places to Write Online For Money
Where Can I Make Money Writing Online?
If you like to write, there are many places that you can express yourself online. Today, I will be highlighting nine websites that can get you started making extra money.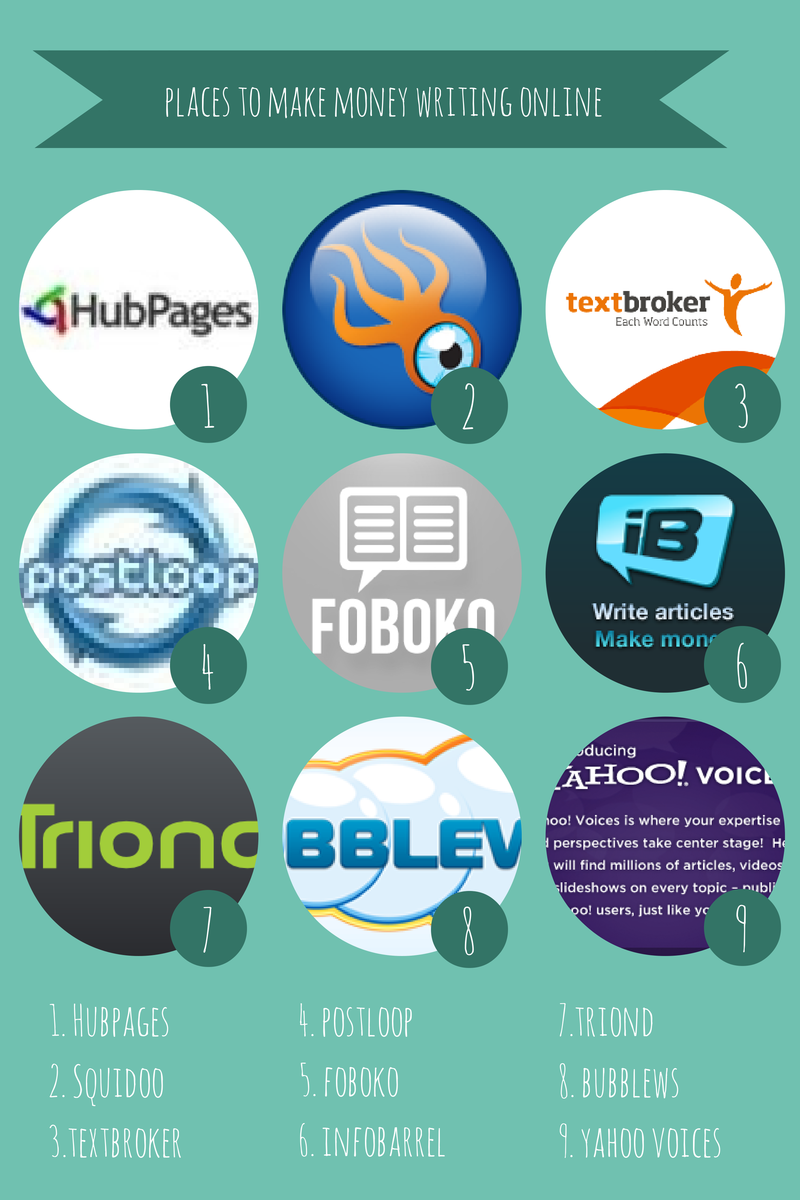 1. Hubpages-Hubpages is a writing community that has over 37 million visits each month. This is a good platform for building an audience and creating articles easily. Earn money by generating ad revenue from Google Adsense, Hubpages Ad program, Hubpages Ebay program, and Hubpages Amazon program. Your article must pass the quality assessment to be published. Payments occur once a month (around the 28th) through the Hubpages Earnings Program via PayPal. You have to at least earn $50 before the first payment occurs.
2. Squidoo-Squidoo operates on lenses. There are different lens formats (i.e. templates) to help you create type of article best for your writing. Another feature is the lens score card. The score card is a checklist of things that need to be done on your lens to ensure maximum exposure on search engines. Squidoo could be an alternative to a blog as it has themes to personify your pages. There are several ways to make money on Squidoo. Squidoo has their own modules to help you monetize your lens. Like Hubpages, you can also make money from Amazon. In addition to making money from affiliate websites such as Clickbank, Linkshare, and Share-A-Sale. *Squidoo has combined with Hubpages as of August 29th, 2014.
3. TextBroker-TextBroker allows you to earn cash for each word you write. The way it works is that you after you sign up, you submit a writing sample and receive a quality rating. Your quality rating allows you to select a project from a their selection of open orders. Choose your assignment, then get paid by word based on your quality rating! Clients also have the ability to send projects directly to your inbox through the DirectOrder method. With the DirectOrder method, you set your own price regardless of your quality rating. This is more of a guaranteed income route because it is not based on getting traffic to your pages like with Hubpages and Squidoo.
4. Postloop-Postloop is different in that you are earning money from posting in forums and blogs. Bloggers looking for comments on their posts, or forum owners looking for participation in their forum pay for people to participate. The only requirement is that you have good English grammar. You will be paid instantly via PayPal. Membership is free.
5. Foboko-Foboko is for people looking to write a book. They have a wizard that helps you get started, and you can even get help from their community of writers. There are two levels of membership. The free membership limits you to five eBook downloads a month and limited author statistics. The paid membership ($49.99 lifetime), allows you to have unlimited eBook downloads and advanced analytic reports for your published eBooks. There is no cost to publish an eBook. Earnings come from revenue from Google Adsense ads that are shown around your book. You keep 100% of the profits.
6. InfoBarrel-InfoBarrel is an online community that shares articles like Hubpages. Once you sign up, you will be assigned an account manager who reviews your articles before they are published. Income is earned by the revenue generated from ads. As a publisher, you are entitled to 75% of the earnings. InfoBarrel has their own ads system called IB ads. Payments are issued a NET45 basis which means that payments will be sent 45 days after the closing of the month you generated the minimum payment ($50).
7. Triond-Triond allows you to submit articles, poems, photos, videos, and audio. Your work is published to the websites that are relevant to your subject. Again, you earn advertising revenue generated by your work, however, your work is being published to numerous sites giving you more exposure and opportunity to earn money. You keep 50% of the revenue, and payment is made on the 15th of the month via PayPal, check, or Western Union once you have met the $50 minimum.
8. Bubblews-Bubblews is a unique system that not only pays you 50/50 of the revenue generated from the ads on your post, but pays you based on every view, comment, like/dislike, and social media share your posts gather. How much you earn for that depends on how much total ad revenue that Bubblews pulls in. The payment options are PayPal, Visa Gift Card, Check, or a "Buy Me This" option which allows you to link to the item that you want. You can be under 18, but to get paid, there has to be written parental consent. You cannot use the site if you are under 13 years old.
9. Yahoo Voices-I saved the "Big Dog" for last! Find your voice on Yahoo. Become a contributor on their network by sharing your knowledge and passions. Choose from your own topic or claim opportunities from the assignment desk. Have the opportunity to publish your work on Yahoo News, Sports, Finance, Shine, omg!, and more with over 600 million visitors each month. Earn money from up-front payments, exclusive assignments, and performance bonuses based on the traffic your article receives.