Online Customer Service Jobs for Starving Students
Remember Michael Jackson's song Black or White? He made a great point of loving someone and ignoring the phenotypical qualities of a person. His words of wisdom can even be transferred from a musical sense into a real life application. It does not matter whether you are black or white, if you're looking for online customer service jobs, they are available! If you have the ability to speak to someone with clarity and provide adequate help and service, then you are more than qualified to provide online customer service. In addition, if you love working in the comfort of your home, then what are you waiting on? Here are nine out of the many online customer service jobs you could attain.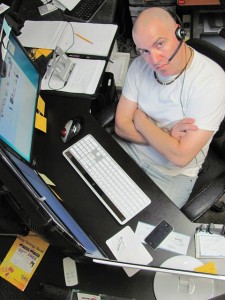 Alpine access is an online customer service website that matches its employees' skillsets with the clients it serves. For instance, if you have skills in assisting people with their phone troubles, Alpine Access would place you with a phone service client.  If you are one of the geniuses in the world who can easily grasp an understanding of the insurance claims system, you will be placed with a client that deals with insurance. Essentially, where you as an employee gets placed depends on, well – you! The application process for employment can be found on Alpine Access' website. The great thing about online customer service jobs is that you can work from the privacy of your own home. Go grab some Doritos or order a pizza! You have the freedom to do that. Only make sure that you possess proper etiquette as well. Why? Because you're speaking to people on the phone! Nobody wants a lesson on onomatopoeia over the phone. Alpine Access is available in 41 states. For a complete list of available states, go to Alpine Access' website.
As for pay Alpine Access states that the amount of money an employee gets paid depends on their skill set. However, the general payout is $9.00/hr. Like any other job in the world, you are paid for the hours you work. With Alpine Access, the hours available for work varies according to each program. Their general hours are from 6 a.m. – 12 a.m. MT. Alpine Access also states that employees are scheduled according to when the most traffic comes in through the phones (1 p.m. – 10 p.m.). In addition, Alpine Access recommends a payout method of direct deposit to all employees. There are no checks sent by mail.
Alpine Access provides benefits to employees who have completed one year of service. The benefits include medical, dental and vision insurance for you and your family. Also, a 401K plan is also provided.
Alpine Access requires Windows XP, Vista, or Internet Explorer 6 and higher. More information on system requirements is provided on the website. The only things you as an employee are required to purchase are two USB cords. The first is for online training – which you are paid for, by the way. The second USB cord should be one that plugs into your computer. Finally, a telephone headset must be purchased. Hey, sometimes you must give a little to get a little
Working Solutions operates in the same basic format as Alpine Access. You are still in your home while providing customer service to people. However, there are differences. After you apply, Working Solutions will notify you once you are matched with a program that suits your abilities as a customer service representative. This process could take a relatively short time, or depending on the circumstances, it could take longer than expected. To put things simply, do not quit your day job when applying. Unlike Alpine Access, Working Solutions is available in all 50 states!
The pay at Working Solutions is also more clearly explained. Training is paid, as usual. The process for training varies depending on each person. The pay scale ranges from $9 – $30/hr. You read that right! $30/hr! I am in no way saying that you should drop everything to work here, but with $30/hr. as a side piece of money, things can really get going! This pay, of course, depends on the program you are matched with. But, hey, if I was in need of some extra cash (well, I always am, but still) I would consider applying with the chance that I could snatch a $30/hr. position.
The technological requirement for Working Solutions is a computer that is fully updated and available for more updates that could occur to consult with clients. Working Solutions is compatible with Windows 7, 8, and 8.1. Any older versions of Windows are not supported.  Additional electronic information can be found on Working Solutions website under "System Requirements" and "Technology Requirement".
An online customer service job with LiveOps is structured in the same format as the previous websites. LiveOps deals with inbound sales, insurance sales, insurance claims, healthcare, and general customer service for companies.
As stated before, the structure with LiveOps is practically the same as the other websites mentioned. LiveOps is also looking for energetic people who are able to provide incoming callers with polite and adequate customer service. However, with similarities there are also differences. LiveOps is not available in all 50 states. For a list of available states, check out LiveOps' website. Also, LiveOps conducts a background history, credit history, and criminal history check on all potential employees. Good for them! They are trying to run a professional company. Hopefully you all have been taking care of business in life. All the qualifications and disqualifications can be found in the FAQs on LiveOps' website.
The pay with LiveOps depends on performance, how much work is done, and the type of program you choose to work in. Some clients pay 25 cents toward every minute you are on the phone with a customer. It just depends on the client you are connected with. As an agent, you have a choice on whether to be paid by check or direct deposit. The payment schedule is twice a month, just like your regular 9-5.
The age requirement for LiveOps is 18 years old. If your child does not want to work in fast food, then tell them they could potentially get paid to sit at home and answer the phone! Also, LIveOps requires that employees be citizens of the United States. The application process can be found on the LiveOps website.
Direct Interactions is a company that offers online customer service jobs, as well as telemarketing. The difference in Direct Interactions is its emphasis on helping military families and people with disabilities.
Inbound services: Customer services, Technical support, Answering services, Third-party Verification services, Lead conversation, Order/transaction processing, Overflow call handling, and Off hours support.
Outbound Services: Buisness-to-Buisness telesales, Lead Generation/Qualification, Appointment Setting, Customer satisfaction surveys, Thank you calls, and Donation solicitations.
Before you start forming an opinon in your mind about telemarketing, keep in mind that there are other areas other than the telemarketing aspect of Direct Interactions, so explore your options!
Unfortunately, Direct Interactions does not hire in all 50 states. For a list of states that Direct Interactions does not hire in, visit the website and look clink on the FAQ link. In addition, employees must be 18 years of age, be legal to work in the United States, and have earned a high school diploma or GED.
The technological requirements of Direct Interactions are that you have service with an internet provider, a landline phone service with no enabled features, a USB headset (some clients may request that you have one), a working computer with Windows 7 or 8, antivirus software, and a firewall installed on your computer.
The pay rate with Direct Interactions is $10.00 – $12.00 per hour. The training is also paid and is at Washington's minimum wage of $9.47. Agents are paid twice a month via direct deposit.
Sutherland's online customer service jobs vary from gaming assistance to assistance requiring an employee to possess fluency in the Japanese language. Most of the positions at Sutherland are part time. However, according to Sutherland's website, there are occasionally full time positions available. Sutherland does not give an exact amount for pay, but states in the employment details that the amount paid towards employees is competitive in the work at home industry. Employees have the choice of direct deposit or the ADP TotalPay debit card. Also, one of the benefits with Sutherland is that a 401K package is offered to part time employees.
Sutherland requires basic necessities when it comes to computers. When it comes to internet, mobile broadband and satellite internet are not compatible with Sutherland. DSL or a high speed cable is preferred.
Along with technological requirements, Sutherland is looking for competent employees who provide excellent services to customers. Remember, this is still the customer service industry. The only difference is that you have the privilege of being in your own home.
A criminal background check is performed on all employees. Credit checks are rare, however a few clients might request them.
The application for employment can be found on the Sutherland website.
Out of all of the websites listed so far, West at Home seems as though it is the most basic as far as explaining what is expected of employees. West at Home is basically an online customer service job in which you take calls from numerous clients and assist customers in the most basic form.
West at Home asks that employees develop skills in processing phone calls, answering customer questions, entering customer information, and resolving issues. In addition, West at Home wants you to read from a script. Finally! This is the answer as to why so many of the customer service representatives repeat the SAME greeting. If you are able to contain yourself in times or crises, then West at Home could be the online customer service job for you. They are looking for mature people who know how to adhere to rules. Seeing that you all are adults, I sincerely hope that you all are able to do that.
West at Home is also particular about the requirements of employees.
Employees must: be 18 years of age, work a minimum of 10 hours a week, possess computer using abilities, be able to speak clearly, pass a background test and job assessments, and also be bilingual.
West at Home appears to keep everything 100% with interested applicants, so why not give them a chance when it comes to developing your abilities while making a quick buck?
Once again here is another online customer service job that keeps it real! What USAContactPoint is looking for people who know how to answer questions about the client's services. The beautiful thing about this job is that you can work as many hours as you want. USAContactPoint also offers bonuses to employees. If this website isn't catching your attention, then I am honestly not sure what will.
The requirements for USAContactPoint are basic and straight to the point.
Requirements: Over age 18, own a computer with Windows 7 or newer, own a headset, possess communication and problem solving skills, and be able to work unsupervised.
Is that straightforward enough for you? College students everywhere should be jumping on this relatively easy job opportunity.
The pay rate is $.13 to $.44/per minute you are on the phone. Payments are made weekly via direct deposit. If you know how to speak clearly and have charisma, then apply for an online customer service job at USAContactPoint. Registration for employment is available on the USAContactPoint website.
1-800-FLOWERS.COM is a seasonal online customer service job. The duties of an employee are pretty straightforward.
Requirements: A resident of Delaware, Illinois, Montana, New Hampshire, New Mexico, New York, Ohio, Oklahoma and Oregon, computer literate, ability to type 35 words a minute, prior call center experience, 18 years or older, skills in selling, and good communication skills.
All of the technological requirements can be found on 1-800-FLOWERS.COM.
The application for employment is located on the company's website. 1-800-FLOWERS.COM is looking for dependable, motivated people to sell their products. If you need a job during the holidays and are able operate a computer and type, then check out 1-800-FLOWERS.COM. At least you won't be bored during the next holiday!
Sitel offers online customer service jobs in which you provide information to customers ranging from financial services to healthcare. The structure is pretty much the same as the other online customer service jobs. Employees are handling customer service calls and dealing with troubleshooting issues. The technological requirements for Sitel is a computer with either Windows 7 or 8 along with a headset. Additonal technological requirements can be found on Sitel's website.
Like the other websites, training for Sitel is paid. Some unique qualities of Sitel is that it offers medical and dental insurance for full time employees, and offers a 401K (also full time employees).
The pay rate for Sitel depends on the skill set of the employee. Employees are paid bi-weekly via direct deposit or their total pay card program. The application for employment is located on Sitel's website.
Online customer service jobs are underrated. If you are in need of extra cash or have additional time on your hands and you do not know what to do with it, try out an online customer service job. Consider this, if you as an intelligent individual with manners don't take up the opportunity to apply or at least look at online customer service jobs, you will be limiting the good service that could possibly be given to people on a daily basis. Online customer service jobs don't discriminate either! Like Michael Jackson said, "As long as you're my baby it don't matter if you're black or white" – only in this case, minus the baby.