On the road to cash: driving to make money!
It costs to own a car, and it can drive us all crazy. Gas, repairs, tires, insurance, etc. So why not put those miles back in to your bank account? Whether you're acting as a taxi cab or delivering items, you can earn it all back and MORE – simply by driving your car in your spare time!
If you're looking to make money driving by dropping people off at their desired destination, then being an Uber or Lyft driver-partner is for you. You can set your own schedule and stop whenever you feel like it! The major requirements are similar for each service (differences are in bold).
Uber is a ride-sharing service that uses an app to connect riders to drivers. Riders choose where they want to go from the smartphone app, and nearby drivers have the chance to accept the trip. Drivers are paid weekly through direct deposit, and allowed to set their own schedule.
The more you drive, the more you can make! **For even quicker payment, Uber has a system called Instant Pay. Instant Pay allows you to transfer your current earnings to a debit card account, anytime.**
You can earn more cash if you drive during a SURGE. This means you pick up people where this a very high demand. You'll know it's a surge because the area will be shaded in red on the app. The deeper the shade of red, the higher the demand is. More info on how you get paid can be found here: Uber Payment
How to apply to drive with Uber:
Read over the Uber driving-partnering requirements.
Complete the online application: Uber Sign-Up
Have your car inspected at an Uber Greenlight station or by a third-party.
Wait for background check approval. (Usually takes 48 hours to a week).
Uber Driving-Partnering Requirements
You can also earn big money with Uber by joining their delivery service "UberEATS". It's a standalone feature inside the Uber app that allows customers to order food from their favorite restaurants. A big difference between Uber and UberEATS is that it allows drivers to make deliveries with a bike, scooter OR car! So people without cars should definitely consider this option. You can set your own work schedule, so its very flexible. UberEATS pays weekly via PayPal or direct deposit.
When you sign up for UberEATS, you must complete four training modules. These modules may vary from city to city.
UberEATS Requirements
Lyft is a ride-sharing service much like Uber, that connects drivers with passengers through the smartphone. The pay rate varies with Lyft. The passengers you pick up each week, the more you're likely to make. You receive a percentage of the rider fees, plus any tips. Lyft pats you weekly through direct deposit.
How to apply for Lyft: 
Read over the Lyft driving requirements.
Complete the online application: Lyft Sign-Up
Wait for background check approval. (Usually takes 48 hours to a week)
Meet with a Lyft driving mentor (an experienced Lyft driver). The mentor will inspect your car from the brakes to the seat belts, and answer any questions you have. This is required and the last step before you hit the road!
Lyft Driving Requirements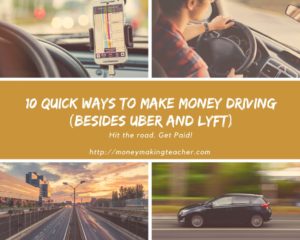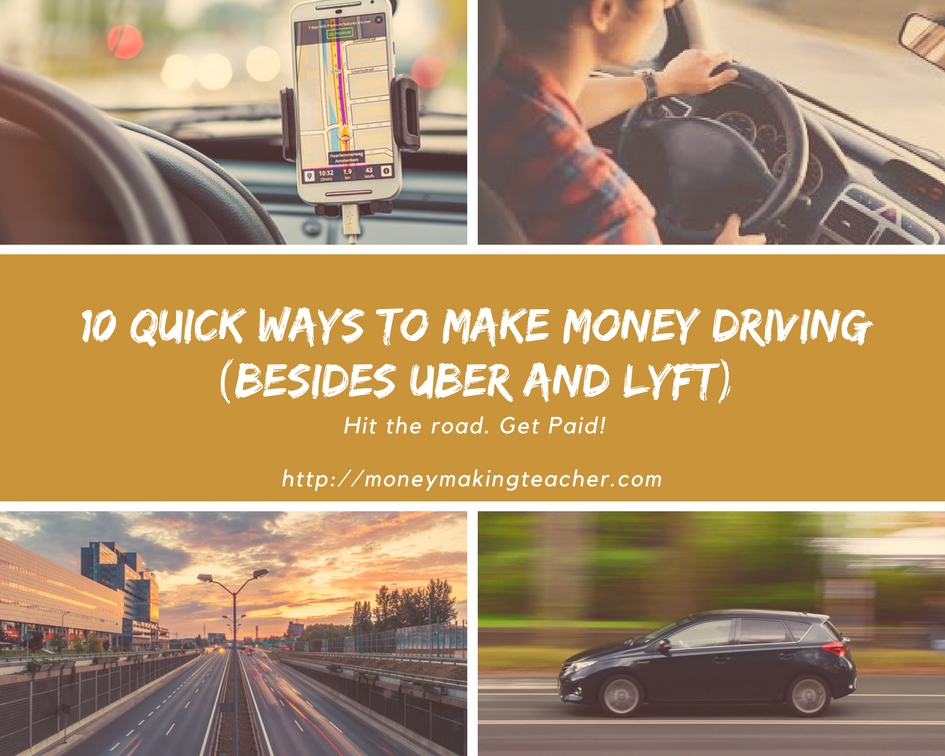 There's also ways to make money driving by delivering items to someone's doorstep! Take a look at these programs and their requirements to see if you can hit the road and start cashing in!
As you can see, there's plenty of options to help you make money driving and delivering a convenient side hustle. You basically need a car, smartphone, driver's license, car insurance to get started! Hopefully this article will help put you on the path to making big bucks on the road!
*This post is partially sponsored, I may earn a commission off some of the links that are clicked.