5 Ways to Make Money Answering Questions
For some people, answering questions can be a very daunting task. To them, it seems as if they are providing their expertise and knowledge and are not receiving any kind of recognition for their effort. I happen to be one of these people! In my opinion, if I am not receiving anything that I am giving my all to, then I am wasting my time. Fortunately, the age of technology has provided a new way to make money while spitting out knowledge and expertise. It's a miracle, right?! Listed below are five websites in which you can make money by answering questions online.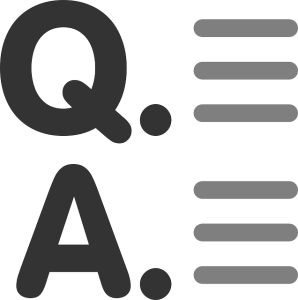 Presto Experts is the type of website that makes it easy to make money answering questions online. The categories to provide your knowledge from include technology, counseling, education, programming, and even more (in case the first four do not suit you).
The way to start your answer questions online journey with Presto Experts is by first signing up on the website. After you do this, create an online profile that lists your qualifications, education, specialties, and anything else you wish to include in your profile. Next, you make yourself available with Presto's Expert messenger and wait for people who have questions to come to you. Clients can contact experts via online chat, phone, or email. The beautiful part about this is that you can choose how your clients get in touch with you. Personally, I do not wish to have to check my computer regularly for emails, so in my case the phone would be the best option. It is your choice in the manner your clients ask you questions.
Another great feature of Presto Experts is that you can set your own fees. That's right! You set the amount on how much you are getting paid whenever you speak to a client. Also, experts have the freedom to accept freelance work from lots of clients. If you are a great listener, speaker, and can answer questions online, this is the perfect type of job for you.
For some reason smarty pants and brainiacs always irked me in school. Especially in algebra! They always knew the answer to every question in class. Meanwhile, I sat in the back of class waiting for lunch to start. Haha! If you are this type of person, Cha Cha is more than willing to allow you to make money by answering questions online.
With Cha Cha, you are a guide (in my words, a brainiac). It is your job to share all the knowledge you have in a variety of topics. Seriously! The questions on Cha Cha always have me rolling whenever I look at them. People ask questions about EVERYTHING. This is one website I feel that anyone can log onto, answer questions online, and earn extra cash.
As a guide on Cha Cha, the pay is $0.20 per transaction. Okay, I know what you're thinking. That sounds like some SERIOUS chump change! Well, you know what? Drake started from the bottom and now look where he is at. 20 cents can add up if you know what you are doing! For those of you who have a drive to answer questions (I already know you brainiacs do), then this can prove to be very profitable! As a guide, you set your own hours – for those of you wondering, that is a legitimate statement. You can log onto Cha Cha anytime you wish and answer questions online like your life depends on it.
The personal requirements for being a guide on Cha Cha is that one must be 18 years of age and live in the United States. For those of you sitting around doing nothing, this is the perfect opportunity to save up for a rainy day. The technological requirement for Cha Cha is that you have a computer with 1 GB of RAM. It's great if you have more, but 1 GB is the minimum requirement. Also, Chrome browser and high speed internet connection is necessary for use of Cha Cha.
If you consider yourself an expert in a subject matter, or would like to start a consulting business, one can make money by answering questions online easily with Ether. The set up with Ether is essentially the same as with Presto Experts. After you sign up with Ether, you create a phone number for yourself that includes your own extension for clients to reach you through. Once again, the beauty of answering questions online shines by allowing you to create your own schedule. With Ether, you take calls when you want to. How many times have you not wanted to answer the phone when your boss is calling you? A lot of times, I'm sure. With Ether, you have the opportunity to exercise that freedom to the fullest extent.
As mentioned before, you set your rate for the calls you take. This is done before you start accepting calls, so when your phone rings, someone has already paid your fee for the call. The way you receive the money is through direct deposit or check. Ether collects 15% commission from your profit. In addition, there are no monthly fees, set up fees, or connection fees.
Another neat feature with Ether is that you can sell digital content on the internet (photos, podcasts, videos, etc.). To make things a little easier, Ether also provides the Ether Buy Now Button that you can place on your blog or website you operate. Oh, and don't worry. Ether provides security against any sort of fishy things that could potentially take place in all of this.
 Innocentive is the type of answer questions online website that provides an outlet for the creators; the people who want to make an impact on various issues in the world – hence the name "Innocentive". If you like to develop solutions for a variety of challenges worldwide, then give Innocentive a shot! It really should be mentioned that there is no guarantee that your solution to a specific issue will be chosen everytime. But, on the chance that it is, you could receive a handsome amount of money.
In order to achieve success on Innocentive, one must be dedicated to research, critical thinking, and possess a creative mind. The minimum age requirement for Innocentive is 18 years old. To become a solver with Innocentive, sign up on their website.
 KGB Answers operates like the previous websites in which you can make money by answering questions online. Clients contact agents through phone, text message, or through the internet and you as the agent provide directory services. Like the other websites, KGB Answers provides flexible scheduling to match your busy lifestyle.
The steps to becoming an agent on KGB Answers are:
applying on the website
passing the Special Agents Challenge
completing Special Agents training
completing registration paper work
Unfortunately, there currently no open positions for agents in the United States. In the Philippines, however, there are spots available. The minimum age requirement for the Philippines is 18 years old. Also, in the Philippines, the maximum amount of hours one can attain per day is 7 hours. The maximum amount of hours per week is 38 with a minimum 10 hours.
Any competent adult can make money answering questions. All you do is sign up on one of these FREE websites and start assisting people with whatever questions they have. In addition, there is variety when it comes to these types of jobs. Whether you are a random person or a brainiac, there is a need for you on websites in which you answer questions online. Give it a try!