How To Make Money Online As A Teen Using Swagbucks
Teenagers now have a way to make money online doing one thing they do virtually every minute (and possibly every second) of the day: surfing the web and wasting time. Hey, it's a teenager's dream. Why not let them make a few bucks in the process?
Swagbucks is the perfect answer to every teenager's question of how to make money online as a teen. All that is required is a willingness to get on the internet and search – literally, search. This means doing something as simple as typing in something that interests you and clicking on the website.
The way Swagbucks operates is they provide members with a search bar for members to surf the web. Activities that members engage in to earn bucks include doing surveys, playing games, and shopping. Who doesn't like shopping? Especially when it can allow for more shopping and savings in the future?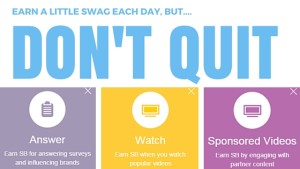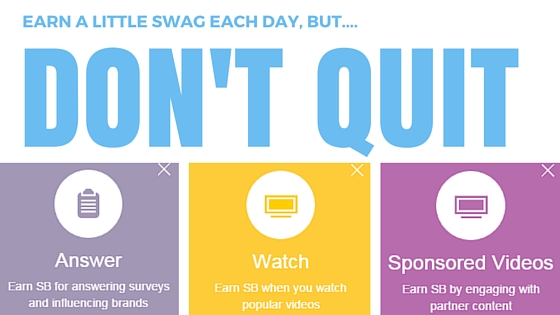 Earn money or gift cards watching videos
Another cool feature of Swagbucks is that it allows you to watch videos. Here's how Swagbucks can help you can turn watching videos online into your watching movies in the theater for free:
Earning 1,500 SB gets you enough for a $15 movie gift card from AMC or Regal Cinema! Whether you're on the go, at home, or stuck at a desk, here's how you can get your $15 movie gift card in just 1 week:
Enter the daily Swag code in the Swag Code box: Earn about 3 SB per day – 21 SB
After you sign up, get the codes here! You have to enter the code before it expires for the day. They do not last all day long.
SBTV mobile on Android & iOS: Earn up to 36 SB per day watching everything from food videos & news to Hulu clips & music videos – 252 SB
Moviecli.ps app on Android & iOS: Get 18 SB per day watching the latest movie trailers – 126 SB
EntertaiNOW app on Android & iOS (US only) – You can also earn another 18 SB per day checking out news on movies and TV shows, behind-the-scenes interviews and celebrity gossip – 126 SB
SBTV on Desktop: Watch a little bit of everything, including Hulu clips & music videos, but with a higher earning cap of 150 SB per day – 1,050 SB
When you have a specific SB goal (like a $15 AMC or Regal Cinema gift card) and a plan of action, you'll get gift cards faster and check out the newest action-comedy or Oscar-nominated drama without spending extra money. There are even more ways to earn SB online, so take a look around and see what works best for you. You don't have to wait until the next blockbuster comes out to start saving up with Swagbucks!
After accumulating the bucks, they can be redeemed on the Swagbucks website for gift cards to various stores, including Walmart, Target, and Starbucks through the Swagbucks reward store, or redeemed for actual cash to be paid out through a PayPal account.
Remember, 100 Swagbuck points equals one dollar, so in order to really bank with Swagbucks, you have to actually use the internet, which shouldn't be a problem for the average teenager. The minimum payout actually varies. Seriously. People actually get paid five dollars with their 500 Swagbuck points. Hey, any amount of money comes in handy.
How to make money online as a teen? Swagbucks, that's how. It has to be one of the easiest ways for a teenager to make money while doing absolutely no manual labor, except for the moving of fingers, if that counts. With a minimum age requirement of 13, Swagbucks is a prominent way of how to make money online as a teen.
Get yo' swag on today!
*This post is partially sponsored