What is Sykes, and How Can it Help You Work From Home?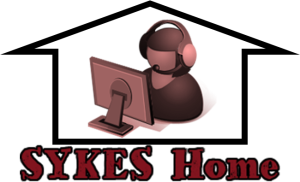 Sykes Home's work at home jobs provides individuals an opportunity to make extra money from the comfort of your home. Sykes allows you to set your own schedule giving you the flexibility to achieve a work-life balance. This could be a good opportunity for stay-at-home moms, individuals with disabilities, military wives, retirees,  or wanting to work from home to make extra income.
Sykes currently hires in 40 states across the U.S. and Canada. You do not have to be a U.S. citizen as long as you can provide legal documentation that you are eligible to work in the U.S. Most of the positions available are full-time; however, there are some that are part-time. The application and interview process is done online and over the phone.  There is a $45 background check fee that is due if you are offered a position, and they will be doing a credit screening (free credit report).
The job will be answering phone calls from client's customers. You will not be selling anything, all calls are inbound. Most customers will have a question about a product or place an order. You will be matched with an employer by the results from your screening, and expected to work a set weekly schedule. It is required to work at least one day out of the weekend, for at least four hours. Your schedule is based on your chosen work shift availability and the client's projected call volume. Schedules will be posted 4-7 days ahead of the next week so that you know what shift you will be working.
If this sounds like the opportunity for you, continue reading to see how to get started.
What equipment do you need to get started?
You will need a PC running Windows XP, Vista, or 7 (Windows  8 may work, you would need to ask)
At least a 2.0 GHz Dual Core processor with 20GB of disk space free
Anti-Virus and Anti-Spyware software
A firewall needs to be turned on
Subscription to a hard-wired DSL or Cable internet service (no satellite or wireless Internet service)
Internet Explorer 8 or later
Landline telephone this is either a traditional line, cable (phone service from a cable provider), or Fiber-Optic (phone line from a local phone service). No VOIP
No Cordless phones, the phone must be a corded traditional phone
Two headsets: a USB headset for online training and a telephone headset for taking live customer calls
A comfortable, noise-free office set-up
How do I get paid?
First, it should be noted that you are an actual employee, not an independent contractor with the company.
The average starting pay rate is $9/hr and you will be paid every two weeks by direct deposit.
If you work over 20 hours a week, you will become eligible for benefits after 30 days of employment.  Benefits include medical, dental, and vision insurance for you and your family.
Employees that have completed one year of service and worked over 1000 hours can participate in a matching 401(k) plan.
There are opportunities to advance in the company while working from home. You can be promoted to a team leader, coach, or account manager.