How To Start Earning Money With Ibotta!
Hello All!  I am writing today to inform you of all the updates to the Ibotta app. For those that have not heard of Ibotta, it is a shopping app that allows you to earn cash for purchases. It has been around for over a year now and they are on release number three. I've blogged about this in the past because it is a great smartphone app, but recently, it has gotten even better!
The Changes in Ibotta as of 8/2014:
 

The home screen has been simplified to allow easier access to see all offers for each store. In the past, the offers that were available for all stores were located in the "offers" section. To see the store offers, you had to go to the menu and select "store offers". However, if you were new to the app, or did not fully explore all the app had to offer, you would miss seeing the store offers.


New categories to earn money in. Now you can earn money at home improvement stores, restaurants, pet stores, and movie theaters.  Here is the complete list of stores that are supported by Ibotta.

New ways to cash your earnings out. Previously, you could only get paid via Paypal. Now you can choose from Paypal, Venmo, or redeem for gift cards.



Referral bonus: Earn $5 each time you refer someone to try the app. The money is credited to your account once they have signed up with your referral link and redeemed their first offer on their phone. You can share your link via Facebook, Twitter, Google+, and via text message.  
Ways to earn money in Ibotta 2.0:
Earn money shopping at your local grocery/healthcare stores. There are over 50 stores that you can redeem offers at, including the Military Commissary.

Earn money eating at restaurants such as Smashburger, Chili's, and Burger King. All you have to do is purchase an item or spend the required amount, then scan your receipt.

Earn money at the movies. Watch the featured movie in the app at AMC or United Artists theaters, and get money back. If there is not an AMC or United Artists theatre in your area, you can earn money back on the concessions at Edwards and Regal theaters.

Earn money at Home Depot and Lowe's by purchasing household items.

You can even earn money shopping online at some of your favorite retailers!
The earnings don't stop there, earn even more with weekly and monthly bonuses. This is what I call the "free" money. For instance, get team bonuses for redeeming a certain amount of offers. New users can earn up to $2 in Ibotta Welcome Bonuses by redeeming offers within your first 10 days of registering.
How does Ibotta work

?

The steps below highlight what to do once you've installed the app on your phone.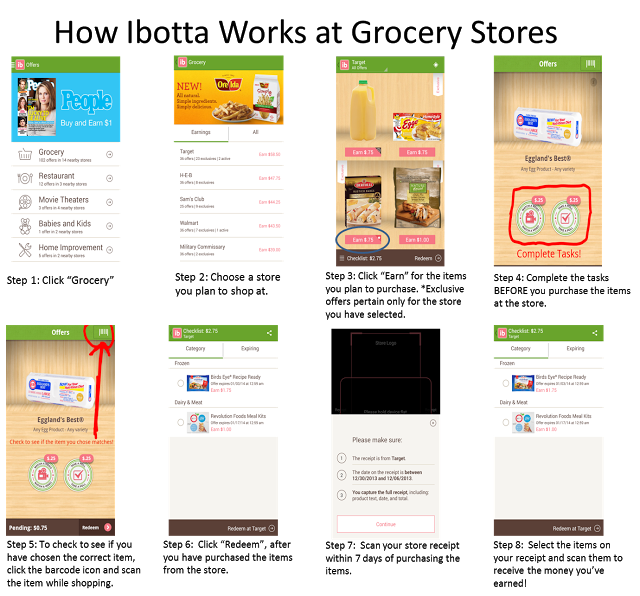 If you are ready to get started making extra money for yourself or family, then click here to sign up! 
Note: Check out my other shopping articles to triple your money while shopping!