Chump Change: Fiverr
In my effort to continue to help individuals create additional streams of income, my new segment "Chump Change", will feature websites that will allow you to make some extra money online.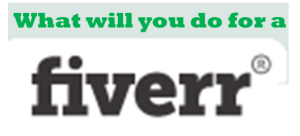 What are you willing to do for $5? That's what the people over on Fiverr want to know and they are willing to pay you…..wait for it….$5! This is an opportunity for you to complete tasks and be able to generate some extra money.  While $5 is not a lot, you will have the opportunity to market your talents and start your path to becoming an entrepreneur by forging new relationships. Below is a summary of what to expect if you choose to join.
Work at home requirements:
Fast, reliable Internet connection
Paypal account (Paypal Student account if you are under 18)
Who is this service available to:
ANYONE in the world is looking to make some extra money (no specific age requirements, if you are under 18, you will need a Paypal student account so that you can get paid!)
How to get started:
1. Sign up with your email account or use your Facebook account (Free registration)
2. Create your gig
3. Set your payment option (Paypal account)
4. Promote your gigs on your social networks
Tips for creating gigs:
Sellers earn a flat $4 commission when a buyer purchases their services, and payments are made through Paypal with a minimum payout of $4.
You want to choose simple tasks that will not take up all of your time. Remember, you are only getting $4 once the fees have been taken out.
Offer something that is unique, or a task that is in demand (trending).
Entrepreneurship Tip:
After you have completed a task for a client, make a connection with that person for future gigs outside of Fiverr.  This will allow you to  make more money.