App in a Snap: SmartyPig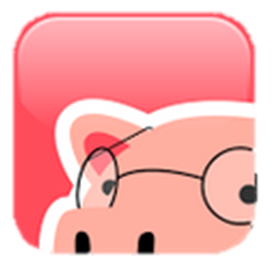 Are you tired of trying to save money, only to not reach your goal because you kept dipping into your savings account? If this is happening to you, look no further than SmartyPig. SmartyPig is an online savings and smartphone app that allows you to set goals to save money. There is no cost to you, and there are no fees. This application is backed by BBVA Compass bank and is FDIC insured.
How does it work?
The first thing you will do is set a savings goal, such as paying for a vacation, buying a TV, or Christmas spending money. Then you will set a dollar amount for each goal and link your Bank Account. Your initial deposit will be withdrawn from your linked account immediately, and must be at $25. Next, you will set an end date of when you want the goal to be met. You get to determine how often you want your goal funded (monthly, twice a month, every 14 days, or none). If you select none, you will fund it when you want to. One thing that is different from traditional savings accounts, is that you can choose to have contributors to this account.
When adding money to your goal, it is important to note that you can only use an existing funding source that you have set up.  You can add between $10 and $50,000 dollars on any business day. If you have chosen to accept contributions to your goal, you will have the ability to share your goal with your Facebook friends, Twitter followers, and 28 other social destinations.  You can also create a widget for your blog.
 How do you get your money?
To redeem your savings, there are three options to choose from. On your goal, select "Stop goal". This can be stopped at any time without any penalty. The first option is to redeem your money for gift cards to major retailers. SmartyPig gives you up to 11% of a cash boost depending on the retailer. Currently, Macy's has the highest cash boost of 11%, so if you redeem $1000 towards a Macy's gift card, SmartyPig is will give you $110, so your total on your card will be $1110. The second option is to get a SmartyPig Cash Reward MasterCard. The initial card fee is $9.95 and you can earn 1% on your purchases with the card.  There are no monthly maintenance fees, but there is a $1.95 Domestic ATM ($4.95 International). The last option is to simply transfer the money back to your checking account. This will take 2 business days for the funds to post.
Quick Facts:
You earn 1% interest on your savings goal
You can refer up to 100 friends. Each referral will reward you with $10
There is a Google Chrome extension called SmartyPig OneClick
The smartphone app is available for iPhone's and Android users
Available to users in the US and Austrailia