How To Get Free Giftcards With CheckPoints App
What is it? Checkpoint is a reward based app that combines shopping, downloading apps, shopping, playing games to collect points towards rewards. Anyone, in the United States, ages 13 and older can use this app.
How does it work? Earn points by watching videos, scanning barcodes at local stores, downloading apps, and earning extra points online.
Getting Started:
After you download the app, you will need to create an account via Facebook or your email account. Creating an account will allow you to have your online activity linked to your smartphone activity.
Collecting Points:
The first way to collect points toward rewards is by going to your local store. At your local store(s) you will have the opportunity to scan products to collect points.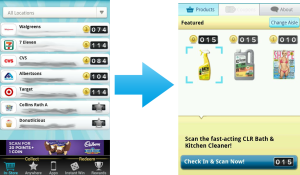 The second way to collect points toward rewards is to complete activities under the "Anywhere" tab. Example of tasks that you will be expected to complete are sweepstakes entries, watching videos, daily check in, referring friends, and more.

The third way to collect points is to download apps. Each app will have specific set of instructions on what to do when the app is downloaded to collect your points. Make sure that you follow directions carefully.

The fourth, and final way, to collect points is to go online and complete various offers, surveys, and tasks. Under the "RadiumOne" tab, complete offers for points. The good thing about these tasks, is that there is an estimated completion time added to give you an idea of how long each task will take. The "TrialPay" tab has more options for completing offers. I recommend going to the "Free" tab and completing the surveys and offers that you are comfortable completing. "PaymentWall" offers the same thing, however, you will want to make note of how fast your points will be rewarded. Some points will be rewarded instantly, and other points will be rewarded later. The "Shop and search" tab is just a search bar that you can install on your computer. When you search for items online using the search bar, you are awarded points.


Redeeming Points for Rewards:
The minimum amount of points you need to collect for a gift card is 335 points. The sweepstakes start with 20  points, and you can choose to enter as many times as you'd like (each at 20 points). The Instant Win games can be played once you have collected points from scanning items at stores.

Platforms: Available in AppStore and Google Play