5 Ways To Work From Home Teaching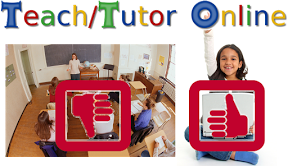 Five places to work from home teaching are revealed below! If you are tired of classroom management issues, administrator's rules, or maybe looking for different ways to educate, look no further than the two online teaching places below. These places offer a true full-time work from home teaching job with benefits.
Online Teaching
Connections Academy
Connections Academy is a virtual school for K-12 learning. All certified teachers are welcome to apply, and they hold information sessions every Tuesday (5pm EST) and Thursday (2pm EST). To attend the online information session, email 

[email protected]

. You will receive benefits such as Health, Dental, Vision, FSA, 401(k), and more. The compensation is not based on a traditional step scale, but are determined by base compensation in the area you live, degrees, years of experience, and certifications. You will also receive pay increases based on annual reviews, performance-based bonus plan, and career ladder opportunities. Teachers work 10 months and 200 duty days. When teaching from home, teachers utilize LiveLesson to communicate with students.

K12
K12 is the largest provider of online education for grades K-12. They have locations throughout the United States and abroad. Like Connections Academy, you will receive a full range of benefits and certain extras such as gym membership assistance and wellness programs. When searching for positions on this site, make sure you click on the "State" column so that the positions are sorted by State. This will make it easier for you to find jobs in your area. The jobs tagged as "Nationwide/US" are also remote positions that you can apply for. Teachers working with K-8 will be assigned a student as their learning coach. The teacher will work with the parent (or other responsible adult) to monitor the progress, develop intervention plans if the student is struggling, and ensure mastery. At this level, the parent is more in charge of their child's education. At the high school level, the student will be assigned a team of subject-specific teachers. Teachers will be responsible for conducting online lectures/discussions, hold office hours, and set and grading assignments.
More Online Teaching Positions!
Online Tutoring
For those that may be looking to make extra income from home, try online tutoring. Some tutoring positions can become very lucrative if you have built up your business.
Wyzant
Wyzant is an online tutoring marketplace. It already has traffic built in, and there are people looking for tutors in your area. It is a good way to start a tutoring business. It is free to join, and the top tutors earned over $50,000 last year. To help you manage your business, Wzyant provides a schedule that you can sync with your personal calendar, payment and lesson reports, customer support and more. Choose your own hourly rate for tutoring, and don't worry about not receiving payments because that is done through the system. Payments to you will be made by direct deposit or check.

InstaEDU (Must have a Facebook account to join as a tutor)
InstaEDU uses an instant messaging system to get tutoring gigs. The first method is by direct message if you are online. The second method is by an immediate lesson request, in which InstaEDU will send a blast message to all tutors currently online. The first tutor to accept, will receive the gig. There are no time commitments and all tutors are paid $20/hour. The minimum lesson length is 5 minutes, and even if you answer their question in 2 minutes, you will still be paid for 5 minutes. Tutors are paid after every lesson, and you should have your funds within a week. Payments are made via direct deposit or PayPal. I would also recommend this gig to college students.

Tutor.com
Tutor.com has the most extensive application process. To apply, submit an online application, take a subject examination and writing sample in the area you are interested in tutoring in, have a mock session with a current tutor, and then pass a background check. Once you have successfully completed all these tasks, you will be able to tutor. The process takes about two weeks to complete, if you are in a high-demand subject area. You are not responsible for lesson plans, searching for clients, or tracking down payments. You are required to work between 5-25 hours a week. Tutors are paid monthly, and some of the most active tutors earn between $800-$1600 a month. The peak times for tutoring are Sunday-Thursday 4pm-12am (EST), and tutors can pick up extra hours outside of their scheduled hours. *Note: If you have a Mac computer, you will not be eligible unless you are able to run Windows applications.